Hailey Walls
A Fresh WordPress Site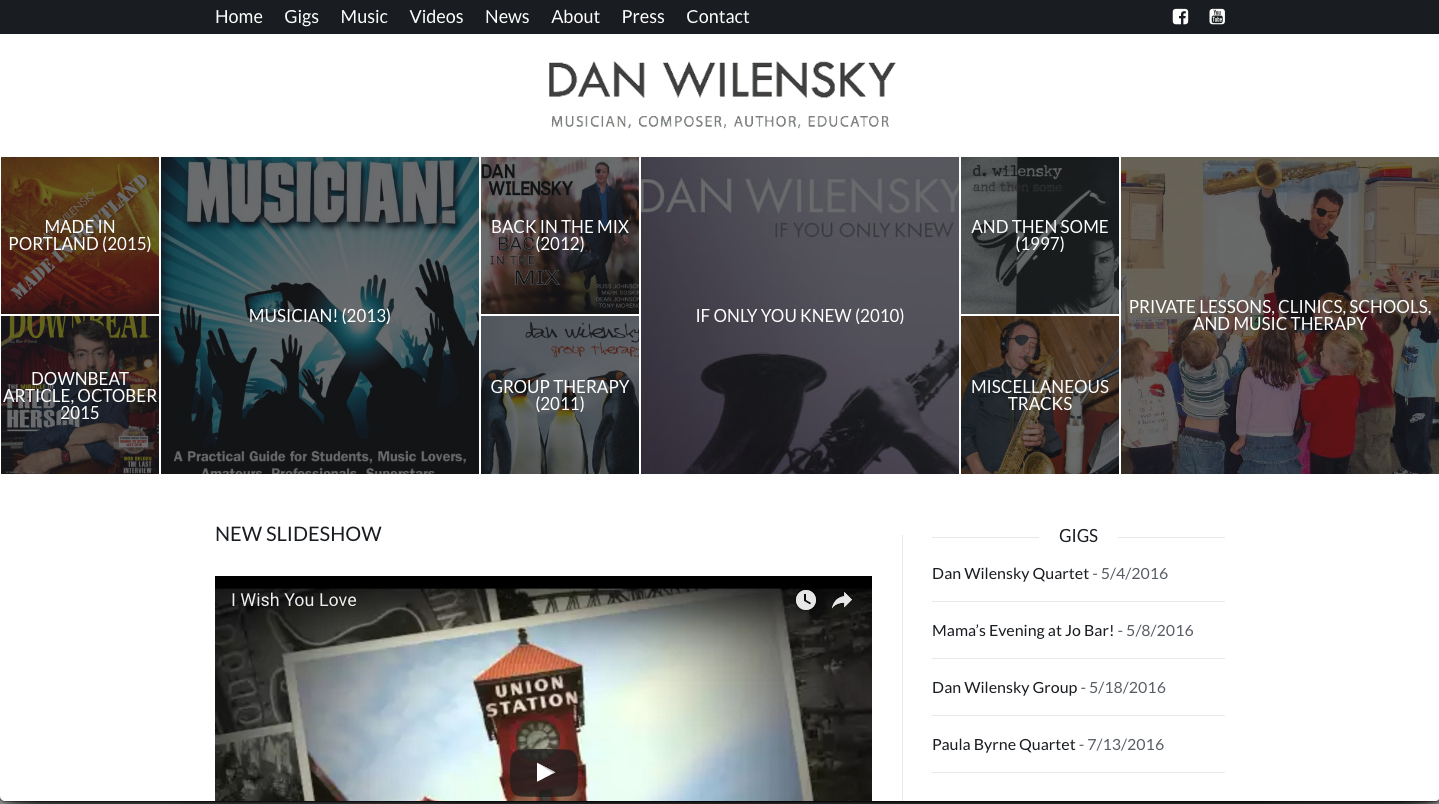 One of the most common reasons that I get hired by a new client is for a new design on an outdated site. There is a lot of variation in what finally caused the website owner to decide it was time for an update. Frequently, the code the site is built on hasn't been maintained well and small issues are starting to crop up – a weirdly aligned photo here and there, some buttons that just don't work anymore. Or it hasn't been updated in so long that potential customers are wondering if the website owner is even still in business. Site security problems, features (like e-commerce) built on old code that stopped working, and an overall dated style are some of the other common complaints.
I had the chance to do a full site rebuild to replace an outdated site for Dan Wilensky, a local jazz musician. The site that he had had some styles that showed their age – gradients and dark colors, bright red fonts – and the site was not responsive. The code it was built on was quite old and some issues with that had started to pop up. And finally, Dan wanted the ability to update his site himself instead of relying on his old web developer to make changes.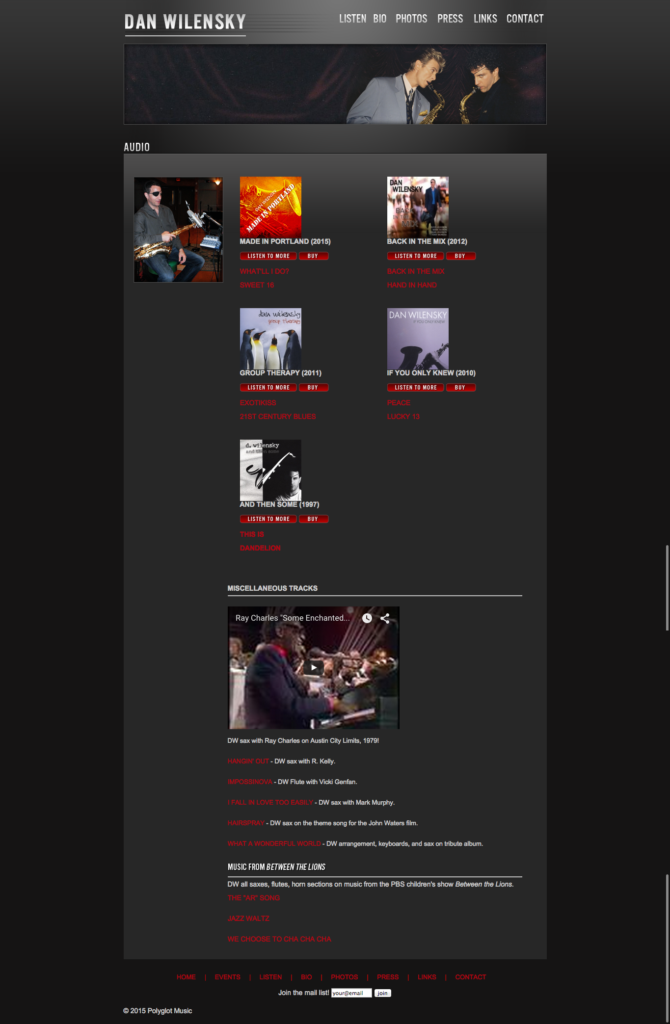 The audio page from Dan's old website – he wanted the ability to add more music samples and to manage the offerings, as well as an update to the dated look.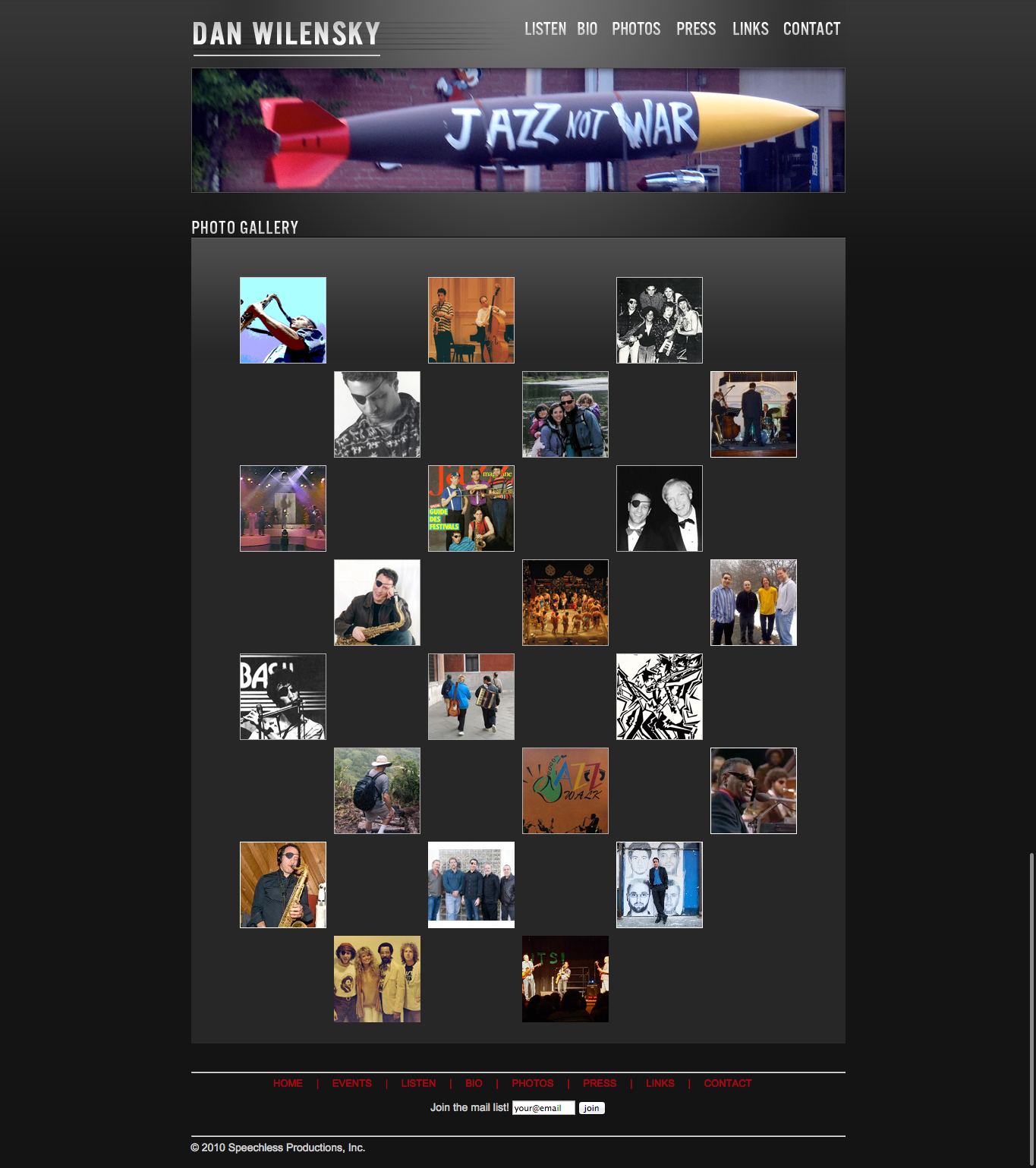 A photo gallery on the old website – expanding images did not work well and he was not able to add any himself.
Overall, Dan's goals for his new site were to have a more modern look and the ability to edit the site himself, including adding gigs and videos of his music. We sat down and made a plan for a new site. The overall structure would be about the same, with a few added features. He didn't need a whole custom design so we worked together to pick a WordPress theme that fit his needs. When we found a design that he liked and mapped out his content, I sat down and got to work modifying the theme to fit his needs.
In order to let Dan manage the many different types of content that he needed to post (gigs, new albums, news, videos, and press), I created several custom post types within WordPress and made changes to the theme for their display. I used custom fields to make editing and updating the site very easy for Dan without a lot of technical experience. I also created a custom widget to keep his upcoming gigs front and center throughout the site. I also set him up with WordPress plugins to help manage site security, backups, updates, and SEO. Before making the site live and handing it over, I created a guide for Dan to help him manage the updates independently and spent time taking him through a tutorial for using his new site.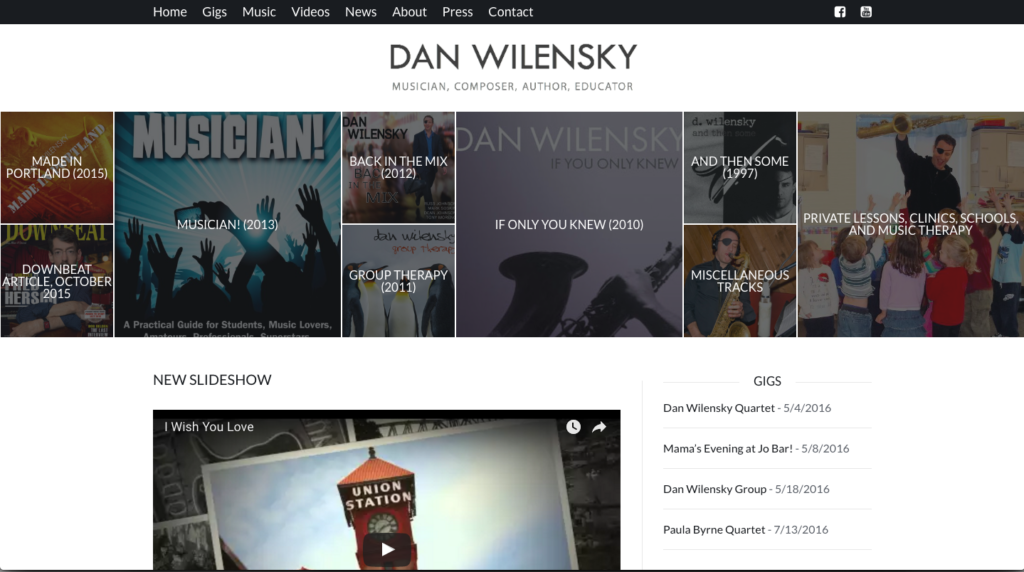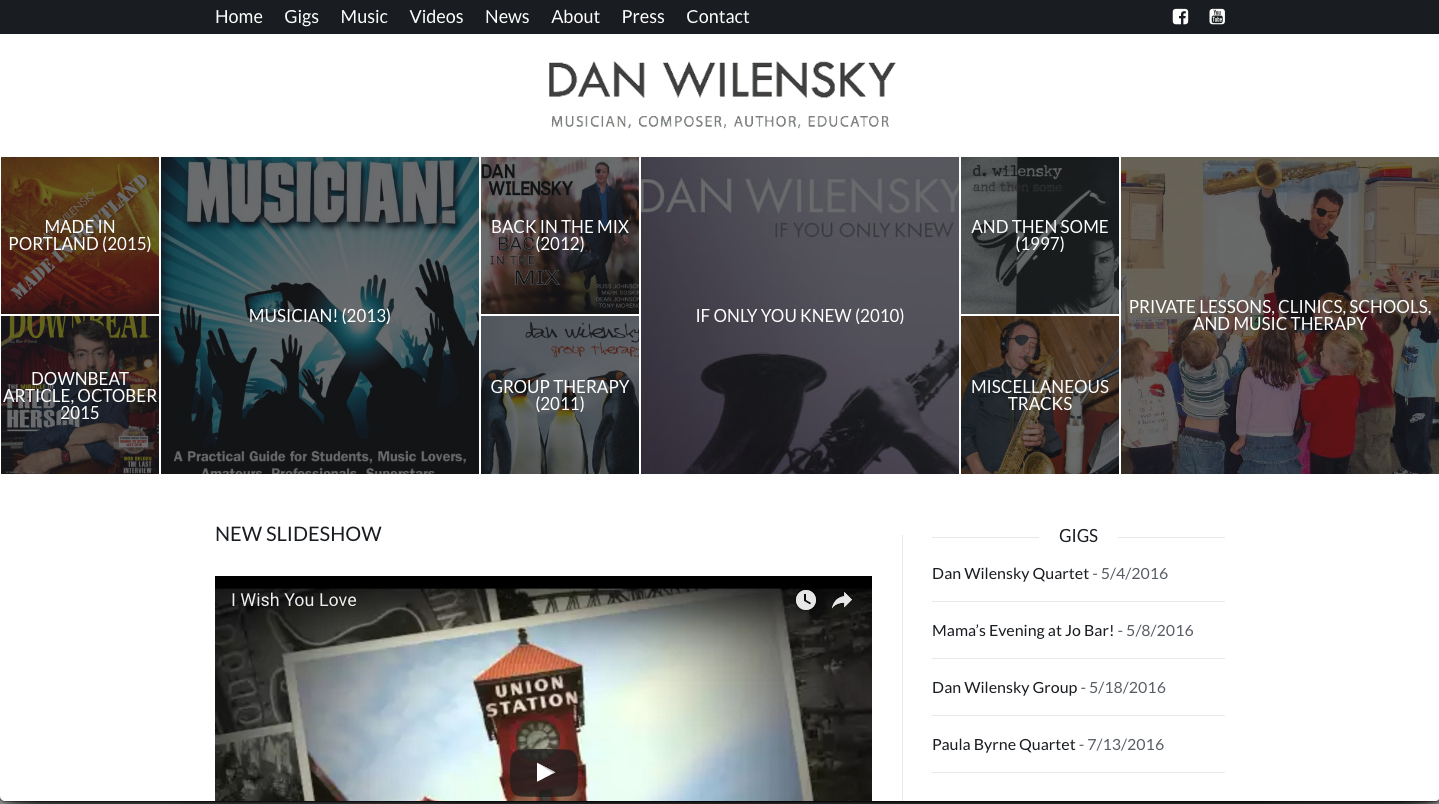 The new home page for Dan's site – we chose a much cleaner, lighter, modern theme and I modified it to display gigs with a custom widget and to keep a youtube video at the top of the page.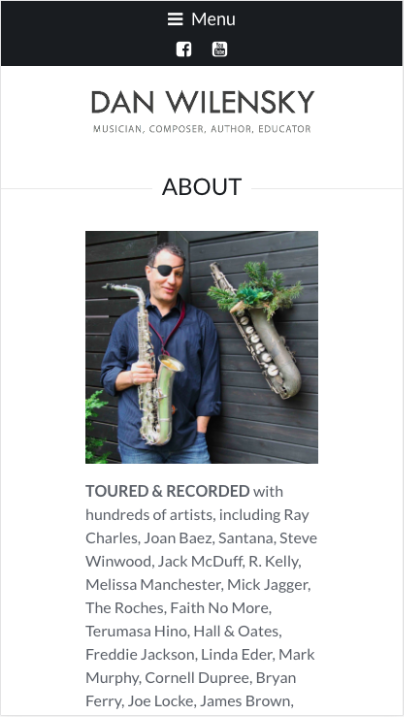 Making a responsive site is critical to me and most of my clients. This site was no exception.
I was even able to incorporate widgets from his main e-commerce venue, CDBaby, which allowed him to manage samples of his tracks.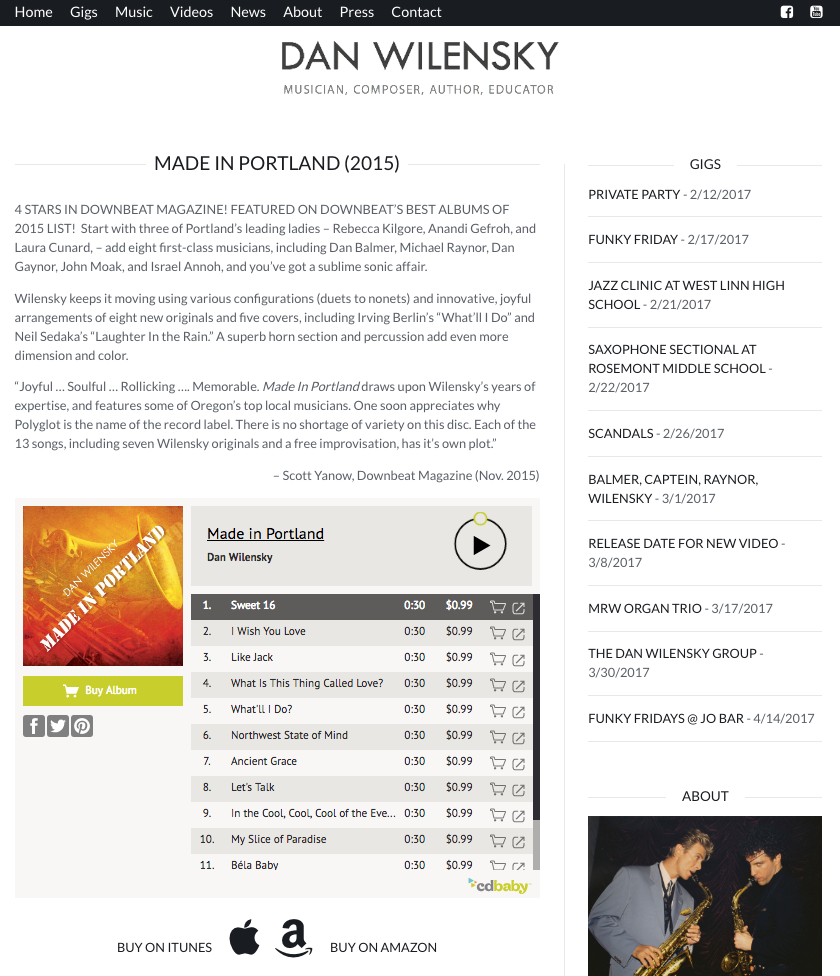 In addition to album info and a CDBaby widget, I designed and added some links for customers who preferred to purchase tracks through iTunes or Amazon.
Here's a peak at the admin side of the site – you can see some of the custom fields I put together to make each post type easy to manage.
Since the redesign Dan's site has been a dynamic, up to date website with new content posted all the time. That's the beauty of ditching the old static site for a new WordPress powered web presence. Dan is able to keep his fans up to speed on news and events easily, and keep them engaged with his work.
You can check out the site yourself here – http://www.danwilensky.com
If you have a site with an out of date style and broken features, or if it's time for you to upgrade to WordPress so you can manage your web presence for yourself, I'm available to build one for you. Email me at hailey@haileywalls.com to discuss what you need and how I can help you create it.